I offer 4 types of services in this area: Conferences and Meetings, Policy Development, Campaign Management Consultancy and Training. I have specific experience in the area of Children's Rights, but have covered many other topics as well.
1. Conferences and Meetings
I am available for conferences and meetings on Children's Rights and other topics, to give speeches, participate in debates, chairing, etc. I have extensive experience in this area; you can read about some examples below by clicking on the pictures below.
2. Policy Development
I have practical experience in the legislation process as I was a Senator in the Irish Parliament. During my term I advocated tirelessly for the implementation of Children's Rights and Child Protection legislation, and was able to have several pieces of legislation implemented. You can read about my accomplishments in the Seanad section of this website.
Previously, as rapporteur of the European Economic and Social Council, I wrote this body's opinion on the EU strategy to support Member States in reducing alcohol related harm.
Since finishing my term I have advised several parties and assemblies in Northern Ireland, Scotland and Wales on both the development of policies and how to get them implemented. I have also participated in a high level policy conference for the Commonwealth.
Below you can see a video of my contribution to the debate on Arranged Marriages and Minors in the Irish Seanad:


3. Campaign Management Consultancy
I have been involved in (political) campaigns from the time I worked in Brussels as a Secretary-General for the European Coordination Bureau (ECB-BEC). I continued to do so when I was a Chief Executive of an NGO and of course as a Senator.
My involvement has ranged from being at the forefront – debating with those who held opposing views, giving press conferences, activity on social media, etc. – as well as being in the background: planning, refining the message, deciding on strategy and related activities.
I am particular proud of my contribution towards adoption of the "Thirty-First Amendment of the Constitution (Children) Act 2012", relating to children's rights and the right and duty of the state to take child protection measures. A referendum was held on 10th November 2012. A majority of voters voted in favour of the referendum proposal (58% voted yes and 42% voted no).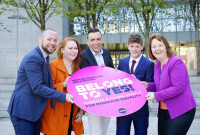 A more recent campaign was the referendum on the "Thirty-fourth Amendment of the Constitution (Marriage Equality) Act 2015". This was approved at a referendum on 22 May 2015 by 62% of voters.
Launch of Marriage Equality campaign, click to see full picture
4. Training
I have been a trainer on "Code of Ethics" with respect to children for many years. My training is relevant for any organisation that works with children and deals with sensitive topics such as how to behave and best practices in cases of suspected child abuse, as well as practical advise to prevent adults getting into situations where they would be open to false accusations whilst at the same time still being able to operate on a normal, human level with children in their care.