Summary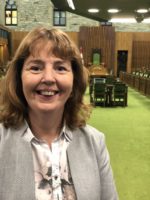 Jillian van Turnhout has successfully held a variety of leadership roles in Ireland and the EU across business, public affairs and voluntary sectors. She has served as a Director, CEO and Public Representative and has built a strong public reputation for integrity and sound judgement.
Jillian's governance expertise emanates from over twenty-five years serving and chairing Boards along with her recognised accreditation as a Chartered Director (IoD UK), certified in international corporate governance from INSEAD (Europe's highest-ranked business school), and an Institute of Directors Certificate in Company Direction with distinctions in governance, strategy and leadership.
Jillian has an impressive range of clients ranging from large to small organisations, and from private to state-run. Jillian's clients include the Department of Foreign Affairs, Galway Hospice Foundation, Institute of Public Health, TUSLA, Gaisce – The President's Award, Aquaculture Stewardship Council and the British Science Association. In addition, Jillian is on the panel of Trainers for Carmichael Ireland.
Jillian's current Board work includes serving on the Board of The Arts Council of Ireland; Board of the Private Securities Authority and Trustee (Director) of One in Four. In addition, Jillian chairs the Governance Committee of One in Four and is a member of the Governance Committee of the World Association of Girl Guides and Girl Scouts (WAGGGS). She is a former Vice-Chair (Director) of European Movement Ireland; former Chief Executive of the Children's Rights Alliance; former Chief Commissioner of the Irish Girl Guides; and former President of the National Youth Council of Ireland. Jillian is a co-founder of the European Youth Forum.
Jillian has been awarded the Chevalier de l'Ordre National du Mérite by the President of France and an Honorary Fellowship by the Royal College of Physicians of Ireland.
Experience
Consultant
Jillian van Turnhout CDir IDP-C
When: 2016 to present
Where: Ireland
Leveraged my decades of experience to launch my consulting firm advising organisations on (Corporate) Governance and Business Strategy; providing Board Evaluations, Board Training and Executive Coaching; as well as participating in Recruitment Panels.
Independent Senator
Seanad Éireann, Upper House of the Irish Parliament
When: 2011 to 2016
Where: Ireland
Leader, Independent Group. During my tenure, I formed, shaped, and amended a wide range of laws. I published legislation and guided its passage into law. I was a member of several committees including the Health and Children Committee and the Committee on Procedure and Privileges.
Member and Vice President
EU European Economic and Social Committee (EESC)
When: 1998 to 2011
Where: European Union
The EESC is a consultative body of the European Union bringing together employers, employees and representatives of various interests. I represented the views of the 344 members from the then 27 Member-States to shape and inform EU policy. My work entailed high-level representation of the EESC on inter-institutional bodies; engagement with the European Commission and European Parliament; at bilateral meetings with the Member States; and on the EESC EU-China Round Table.
Chief Executive
Children's Rights Alliance
When: 2005 to 2011
Where: Ireland
The Children's Rights Alliance brings together over 100 non-for-profit organisations providing a key bridge between Government and State agencies. I transformed the Alliance from a campaign group to a respected organisation by: developing and creating governance systems and procedures; envisioning and successfully implementing its Strategic Plan; and building the Alliance capacity, sustainability and recognition.
EU High Level Expert Forum on Mobility
European Commission
When: 2008
Where: European Union
Chaired by Maria João Rodrigues, I was an expert member of this high-level group informing the EU's policy to extend the scope of Erasmus, increasing exchanges and movement of young people.
Secretary General
ECB-BEC
When: 1993 to 1996
Where: Council of Europe
This youth platform brought together European based International Youth Organisations. My most significant achievement was successfully leading the creation of the European Youth Forum bringing together over 100 national representative bodies and international youth organisations working in over 40 countries. This involved the merger of three umbrella organisations, at the EU and Council of Europe level, into a single platform to be the voice of young people in Europe. It required vision, intense mediation, strategic planning and change management.
Director
O & E Group
When: 1990 to 1993 & 1996 to 2004
Where: Ireland
I was involved in a family business growing it to over 50 employees. I commenced employment in this mid-sized office supplies business in the service department and soon progressed to ICT. I left in 1993 to take up my role in Brussels. In 1996 on my return, I was appointed Manager of Marketing, helping the company to grow considerably. I then took on the roles of Human Resources and Logistics. In 2000, I was appointed a Director and charged with preparing the business for sale. In 2002, O & E was sold to a UK based company and I managed the two-year transition at the request of the buyer.
Other
2019 to present Member, National Screening Advisory Committee. This Committee will provide independent expert advice in evaluating the evidence for population-based screening programmes in Ireland.
2019 to present Director, Board of the Arts Council of Ireland. The Arts Council of Ireland is the Irish government agency for developing the arts.
2018 to present (Trustee (Director), One in Four. Irish Charity Supporting adult survivors of childhood sexual abuse.
2017 to present Governance Committee, World Association of Girl Guides and Girl Scouts. WAGGGS operates in over 145 countries. My role is to evaluate and advance effective governance policies and practices at the global, regional and member organisation level.
2008 to present Vice-Chair (Director), European Movement Ireland. Since 1954, European Movement Ireland has been working to strengthen the connection between all sectors of Irish society and Europe.
2011 to 2019 Independent Chair, Early Childhood Ireland. I was head-hunted to be the first Chair of Early Childhood Ireland which was created through a merger between the two leading Irish early childcare organisations and represents over 80% of all early childcare settings in Ireland. It was an immense challenge to foster a new culture and ethos. I have navigated between a wide spectrum of stakeholders, to ensure its financial viability, recognition and influence on Government policy.
2002 to 2019 Director, Irish Girl Guides Trust Corporation Ltd. This trust oversees and manages the properties and investments of the Irish Girl Guides
2014 to 2017 Chair, Board of Directors, Children in Hospital Ireland. I stepped into the role of Chair at a time when the organisation was facing immense challenges to survive. We rebuilt the governance structures and it is now a revitalised and growing charity.
2011 to 2014 Board of Directors, Women for Election. I was a member of the founding Board of this organisation who are striving to inspire and equip women to succeed in politics.
2011 to 2015, Irish Girl Guides, Chair and a key driver to reimagine and develop the 'Journey' programme for all members aged 5 to 30.
1997 to 2000, Chief Commissioner, Irish Girl Guides. I grew the membership by 8% during my time as the head volunteer of the organisation. I continue to volunteer at a local and national level for this leading women's organisation.
1997 to 2000, President, National Youth Council of Ireland. I secured and developed its current property and grew its influence through membership of social partnership.
Credentials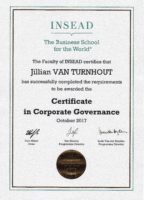 I have successfully concluded the INSEAD International Directors Programme. The INSEAD Certificate in Corporate Governance (IDP-C) is a global credential for board members operating internationally.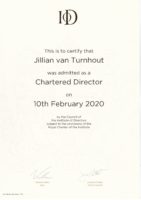 In addition, I am a Chartered Director and have also obtained my Certificate and Diploma in Company Direction from the Institute of Directors.
Awards
Honorary Fellow, RCPI, 2018
Awarded by the Royal College of Physicians of Ireland in recognition of my "significant contribution to children's health and wellbeing, nationally and internationally."
Chevalier de l'Ordre National du Mérite, 2016
Awarded by the President of the French Republic.
Politician of the Year, TV3, 2015
The judging panel, comprising four political correspondents, said: "Jillian has demonstrated how to bring issues forward and make a real impact".
Social Entrepreneur of the Year, 2010 Awarded by Newstalk WMB.
In recognition of her work for the Children's Rights Alliance, it is a testimony to my ability to be strategic, innovative and creative.