I advise organisations in the public and private sector on Legal & Regulatory Compliance, Good Governance, Board Effectiveness, Stakeholder Management, Internal Controls, Change Management, Executive Search, Board Training, CSR, Communications Strategy, Crisis Communications, Organisational Development, Strategy & Planning, Advocacy, International Development, Community Development.
Client examples include the Department of Foreign Affairs and Trade, Aidlink, the Irish Girl Guides, TUSLA, the Department of Children and Youth Affairs, and Carmichael.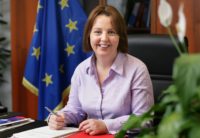 My services include:
NED
I am available to serve as an independent NED, bringing my expertise in governance, public affairs, consumer advocacy, public policy-making, passing and amending legislation and coalition building. I bring perceptive insight into the nexus of the public and private sectors at local, national and European level.
I have served and am still serving on various Boards and Advisory Councils; current positions I hold are are the Boards of the "Arts Council of Ireland", "One in Four" and the "European Movement Ireland".
I have also worked with Boards from the other side, as CEO, and understand the relationship between these two core functions in an organisation.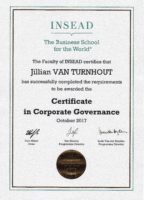 I have successfully concluded the INSEAD International Directors Programme. The INSEAD Certificate in Corporate Governance (IDP-C) is a global credential for board members operating internationally.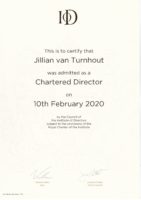 In addition, I am a Chartered Director and have also obtained my Certificate and Diploma in Company Direction from the Institute of Directors.


My experience and training have given me unique insights on how to be an effective member of a board and contribute to the successful development of any organisation.
Governance Consultancy
I help organisations by reviewing their governance policies and procedures, supporting implementation, carrying out strategic planning, etc.
Jillian van Turnhout was the first external person invited to record on the Carmichael Centre podcast with Host Diarmaid Ó Corrbuí. It is 26 minutes of Diarmaid and Jillian sharing their experience and providing some signposting on what to do if/when things go wrong.
To listen to it, click on the picture below to listen to the podcast. You will be redirected to 'soundcloud.com'.
"When things go wrong in charities and what to do."