My consulting firm advises organisations in the public and private sector across:
Corporate Governance
Legal & Regulatory Compliance, Good Governance, Board Effectiveness, Stakeholder Management, Internal Controls, Change Management, Executive Selection, Board Training, CSR, Communications Strategy, Crisis Communications, Organisational Development, Strategy & Planning, Advocacy, International Development, Community Development.
Read More
Public Affairs
I have a Working Knowledge of the Oireachtas (Irish Parliament), EU Decision-making Bodies, NGOs, Public Policy, Political Campaigns, Coalition Building, Socioeconomic Analysis, Political Science, Influencing, Mediation & Negotiation. Former Senator in Ireland and Vice-President of European Economic and Social Council.
Read More
About
I am a highly experienced and recognised Consultant, a former Senator in Seanad Éireann (Upper House of the Irish Parliament), and Vice-President of the EU European Economic and Social Committee (EESC). In 2016 I leveraged my decades of experience as a leader in Irish and EU politics and NGO's as well as a directorship in a commercial enterprise to launch my consulting firm.
I currently serve on the State Board of the 'Arts Council of Ireland', the Board of 'One in Four' and am Vice-Chairperson of the Board of 'The European Movement Ireland'.
I am a graduate of INSEAD's International Directors Programme (IDP-C). INSEAD is the world's third-ranked business school, after Stanford and Harvard (2019). I also am a Chartered Director of the Irish Institute of Directors.
Gallery
In the course of my career, especially during my work in Europe and as a legislator, I have built an extensive, global network of contacts. In recognition of my work, I have received quite a few awards. I participated in and/or led many campaigns and supported various good causes. This gallery gives you a flavour of this.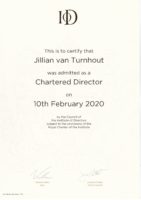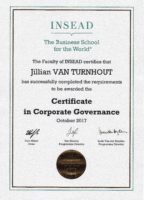 Blog
I am sharing this press release from the Irish Girl Guides from Monday 15 February 2021 with you. – Almost 3,000 Irish Girl Guides' members have earned a Europe badge since its launch in partnership with European Movement Ireland … Continue reading →
Posted in
Blog
Comments Off

on Irish Girl Guides awarded European Citizens' Prize for its innovative European programme
As part of Charity Trustees' Week, The Chartered Governance Institute Ireland is hosting a webinar on 18th November in partnership with Carmichael. The topic is 'Virtuous circle of good charity governance' and the session will discuss the benefits of good charity governance … Continue reading →
Posted in
Blog
Comments Off

on ICSA: The Chartered Governance Institute Webinar on 18th November
I am honoured to be one of the panel of trainers for the Charities Regulator to deliver online training for charity trustees. The training is designed to support charities to apply the six core principles and meet the 32 core … Continue reading →
Posted in
Blog
Comments Off

on Jillian van Turnhout delivers training for Charities Regulator