Breakfast Briefing/Exchange of Views on Literacy with HRH Princess Laurentien of the Netherlands, 23 September 2015, Leinster House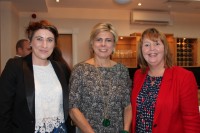 Hartelijk Welkom en Leinster House Koninklijke Hoogheid Princess Laurentien.
Fáilte roimh go leir.
We are delighted to have you, Your Royal Highness, and indeed you, Ambassador Paul Schellekens (of the Netherlands to Ireland), here with us today.
The theme of this week's National Adult Literacy Awareness Week is "Learning and life chances-promoting equality through basic education". The aim is to raise awareness about literacy in Ireland and to promote the free courses available to people who want to improve their reading, writing and maths skills.
"Literacy is essential to effective communication and active participation in all aspects of daily life. It goes far beyond reading and writing. Literacy in a contemporary context also involves listening, verbal reasoning, numeracy and the use of commonplace technologies like the telephones and the internet. Literacy means we can be plugged into the world and negotiate the complexities of modern life.
It is to our national shame that 1 in 6 working age adults are found to be at or below literacy level 1 of a 5 level scale and 1 in 4 below level 1 for numeracy (OECD 2013)".
I have convened this session as both a briefing and an opportunity to exchange views on how best to support literacy through lifelong learning.
All too often I see in my work on children's rights how literacy is an inter-generational issue.  I fully support the need for family literacy initiatives.
Princess Laurentien is a passionate advocate on the issue, which she first encountered during her studies in the U.S. Her Royal Highness worked as a literacy volunteer in the 1990s. From 2001 onwards she started giving speeches on the importance of basic literacy skills, providing a platform for the work of others in the field and working as a 'match maker' between different actors. In 2004 she took this work to the next level when she founded the Reading & Writing Foundation in the Netherlands. While she continues to serve as that foundation's Honorary Chair, she also promotes the cause of literacy internationally as UNESCO Special Envoy on Literacy for Development.
Following Princess Laurentien's address we will hear from Inez Bailey, Director of the National Adult Literacy Agency, a charity dedicated to ensuring people with literacy and numeracy difficulties have access to educational opportunities that meet their needs and can fully participate in society.