New cross-party group seeks greater efforts to counter childhood obesity and food poverty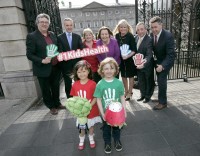 A new cross party Oireachtas group set up to seek a more effective policy response to the twin problems of childhood obesity and food poverty was launched in Dublin today.
The Oireachtas Children's Future Health Group, chaired by Independent Senator Jillian van Turnhout, was launched by RTE presenter Miriam O'Callaghan, along with Irish Heart Foundation spokesman and consultant endocrinologist, Professor Donal O'Shea.
The group is being established amid growing concern across the political spectrum over the health status of children in Ireland at a time when one in four children are overweight or obese and one in five children go to bed hungry at night. The Irish Heart Foundation is providing a secretariat, along with expertise to support the group, which is also being assisted by organisations, including the Children's Rights Alliance, Healthy Food for All and Social Justice Ireland.
The members of the informal group include: Senator Ivana Bacik (Labour), Deputy Clare Daly (Technical Group), Deputy Billy Kelleher (Fianna Fail), Deputy Sandra McLellan (Sinn Fein) and Deputy Mary Mitchell O'Connor (Fine Gael).
"To date actions to tackle obesity have focused on individual behaviour change through education, awareness and media programmes. But these don't take into account the key drivers of obesity – the increasing availability and intense marketing of unhealthy food and drinks that are becoming cheaper all the time compared to healthy produce," said Senator van Turnhout.
"Meanwhile, as the numbers living in food poverty grow, health workers are seeing more and more children who are obese and undernourished at the same time – a phenomenon of modern malnutrition."
Senator van Turnhout said the objective of the Oireachtas group was to develop proposals for actions which tackle the root causes of childhood obesity – particularly those recognising that childhood obesity and food poverty must be addressed in tandem and that solutions must be primarily targeted at disadvantaged communities.
"The disparity between social classes is demonstrated in the Growing Up in Ireland study which shows that among nine-year-olds, whilst 19% of boys and 18% of girls from professional households are overweight or obese, the rate soars to 29% of boys and 38% of girls from semi-skilled and unskilled households.
"For parents who cannot make ends meet, the worry isn't feeding their children well, it's feeding them at all. One recent study shows the cost of a healthy calorie is up to ten times higher than an unhealthy one and it's high time we woke up to the fact that if we don't help these families, we are condemning increasing numbers of children to lives dominated by ill-health, chronic disease and ultimately an early grave."
Specific areas the Oireachtas group will be examining include taxation to fund programmes such as fruit and vegetable subsidies and community food initiatives, school food provision, no fry zones around schools, addressing the impact of low incomes on health eating, food labelling and marketing of unhealthy food and drinks to children. Later this year the group will launch the first ever study on food marketing to children via the Internet and social media, which is currently being carried out for the Irish Heart Foundation.
Professor Donal O'Shea, consultant endocrinologist and member of the Irish Heart Foundation Nutrition Council said: "I see this group as strong cross party support for the full implementation of the Healthy Ireland Framework – ensuring that Healthy Ireland will continue beyond the life of this Government. It is really hard to understand why there has been so little sustained action to tackle obesity to date. It is the number one public health issue facing the developed world in terms of driving diabetes, heart disease, cancer and depression. Doctors are seeing confirmation of this daily even in children with boys and girls in primary school suffering from high blood pressure, high cholesterol, painful joint conditions and rapidly increasing incidence of type 2 diabetes."
Speaking before the launch of the group, Miriam O'Callaghan added: "Children and their parents are constantly being bombarded by strategies to encourage them to consume more: Product placement in stores, attractive packaging, toys with fast food meals, promotions to buy one-get-one-free, prizes, discounts, supersizing. As a mother I know well how hard it is to resist such marketing and it's clear that solutions to childhood obesity must address the fact that treat food and drinks are increasingly being consumed as if they were a staple part of children's diets."
ENDS
Media queries to: Caroline Cullen, Communications Manager, Irish Heart Foundation, Main switch: 01-6685001 or Mob: 086-6049282.
Photos taken by Photocall Ireland