"The Lancet" is a weekly medical journal. It is one of the world's oldest and best-regarded scientific medical magazines. It was founded in 1823 by Thomas Wakley. Lancet is another name for a scalpel, a surgical instrument.
Jillian van Turnhout, CDir co-authored an article that was published in "The Lancet" on 28 June 2021. The other authors are:
Anja Heilmann, PhD
Anita Mehay, PhD
Prof Richard G Watt, PhD
Prof Yvonne Kelly, PhD
Prof Joan E Durrant, PhD
Prof Elizabeth T Gershoff, PhD
The title of the article is "Physical punishment and child outcomes: a narrative review of prospective studies".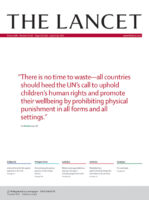 Summary of Article
Physical punishment is increasingly viewed as a form of violence that harms children. This narrative review summarises the findings of 69 prospective longitudinal studies to inform practitioners and policymakers about physical punishment's outcomes. Our review identified seven key themes. First, physical punishment consistently predicts increases in child behaviour problems over time. Second, physical punishment is not associated with positive outcomes over time. Third, physical punishment increases the risk of involvement with child protective services. Fourth, the only evidence of children eliciting physical punishment is for externalising behaviour. Fifth, physical punishment predicts worsening behaviour over time in quasi-experimental studies. Sixth, associations between physical punishment and detrimental child outcomes are robust across child and parent characteristics. Finally, there is some evidence of a dose-response relationship. The consistency of these findings indicates that physical punishment is harmful to children and that policy remedies are warranted.

You can purchase the full article on the website of "The Lancet":